The 9 most pawsome dog-friendly pubs & parks in Glasgow
Treat your pooch to something a little different from their normal 9-5. We've tried to pair up parks with bars, cafés and takeaway eateries so that you can enjoy your walk then fill up and chill out with a coffee, or perhaps a pint, afterwards, furry friend in tow! Might be a bit of effort to get there, but the weather is only getting better and dogs love to explore as much as you do! We've done our best to ensure that each venue is currently dog-friendly, but sometimes policies change to do check yourself before turning up to avoid disappointment! That's the disclaimer done with, so in no particular order:
1. Glasgow Green
Glasgow Green might be a bit flat, but that just makes it all the better for running about like a mad pup! Keep to the paths or have a run in the dog park. Afterwards, enjoy a pint or two in West Brewery (or in the Beer Garden if the weather is still being good to you). Otherwise, Saint Luke's is a ten minute walk, so you're really spoiled for choice if you decide to pick the Green for your doggy date, both will welcome well-behaved dogs!
2. Newlands Park
Now to go a little more off the beaten track – Newlands has paths and flowerbeds but also a wee pond and some hillier bits to get the legs working. There isn't an official carpark but parking is available on the street, or if your dog is a seasoned traveller, hop off the train at Langside Station and get started there. The Dandelion Café is situated in the park and offers tasty treats for tired walkers!
3. Kelvingrove Park
Busy, beautiful and we wouldn't have it any other way! Have tested the fenced-off dog park and naughty cockapoos will jump it no bother and leave you shouting in a cloud of dust, but have witnessed many calmer dogs enjoying a run round. The post-park pint can be found in several directions. The worst kept secret of a dog-friendly bar, Inn Deep is always a joy. The Sparkle Horse offers brilliant lunchtime menu deals midweek, and West Brewery's little cousin, West on the Corner, all allow doggies on their best behaviour.
4. Alexandra Park
A good one if you're inviting the kiddies or anyone who doesn't manage the longer walks on your big day out – plus there are lovely gardens, a fountain and some ponds to enjoy. Have a wee walk and stretch the legs, then try the Duchess of Duke Street for a dog friendly way to finish the day.
5. Mugdock Country Park
Want to feel like you're getting out into the wilderness a bit, but still home in time for tea? Easiest accessed by car, unfortunately, but if  you can get there, it's well worth the trip! Stop off afterwards in Milngavie's Bullands Coffee House – we've had a tip off that good dogs might just bag a sausage if they behave themselves!
6. Tollcross Park
Small but perfectly formed, with a Rose Garden and Winter Gardens. There's also a Children's Farm, so bear that in mind if letting your dog offlead! Whilst we've struggled to find dog-friendly eateries nearby so far (let us know if we've missed one!) we highly recommend picking a warm enough day to picnic, and picking up a platter of bits and pieces to go from the marvellous Eusebi's Deli on your way in on Shettleston Road. Gigantic cakes, gorgeous pizzas and freshly made coffee are more than enough encouragement for me!
7. Queen's Park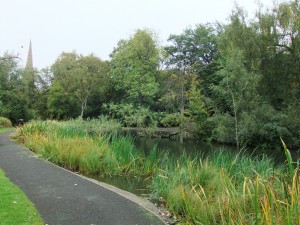 You will really be spoiled for choice with doggy dates after your walk around Queen's. The park itself has a wildlife pond, tennis courts (still not quite taught a dog to use the racquet, though), glasshouses and much more to enjoy. Afterwards, pop to the Butterfly and Pig for a pub lunch and a pint, Lebowskis for a White Russian or The Milk Café for tea and cake.
8. Victoria Park
A personal favourite, Vicky Park is the last place you expect to find it if you're coming from the east and walking up and down motorways looking for it. It appears out of an underpass and is a wee slice of tranquility in the busier parts of the West End. Don't let your dog chase the birdies (and watch out for the swans) and don't miss fossil grove, too! Afterwards, walk towards Dumbarton Road to find St Louis, a wee, dog-welcoming watering hole with beverages, beer and food for the soul.
9. Dodside Dog Runs
If your dog was born to run like Springsteen, and has really been good lately then treat them to a trip to Dodside Secure Walking Dogruns, about four miles South of Newton Mearns. You'll need to book ahead, wrap up and bring yourself some snacks, as the whole point of this newly opened space is a safe, exciting spot for dogs to run off lead. If you've got a city dog who doesn't get a good off-lead run as much as you'd like, then this is perfect. Treat them, you can go for your coffee at home!