Street Food Putter Club: The Golfing Event You Never Knew You Needed
Clear your schedule for April 29th and get your putters oot. Street Food Putter Club III is coming and there'll be birdies, bao and brews for all. Snap up your tickets here, or if you're feeling lucky then read on to find out how to win some!
"They always say the third in any trilogy is the best (apart from The Godfather…) so it is with great excitement that we announce that Street Food Putter Club is BACK!!"
For just £4, you can enjoy a whole 5 hours of puttering aboot and perfecting your (mini) swing at one of Glasgow's edgiest venues. Food and fun aside, the Glue Factory is a #brickwallsofinstagram dream. This is the second time that the club will tee off from here, and we can't wait to see what they do with the place – expect lights, games, food, drink and banter galore. Golfing dress-up optional.
COMPETITION!!!
A wee birdie tells us the good people at Putter Club are giving away free entry and a food voucher for up to fore people. Whoever posts the best Food/Golf pun will win! Maybe your driving ambition will put you at the forefront of the action. Just make sure that your enthusiasm doesn't cause you to crash into a food truck and make a hole in one. That was good, wasn't it?
How to enter: comment on this post with your puntastic ideas, and tag the 3 people you would bring along with you. Winners will be announced Thursday 27th April 2017.
Whether you're a wizard putter, a belter at boules (good or bad) or a ping pong champ, there'll be plenty of time to show off your skills or amuse everyone with your lack thereof. DJ Craig Mullen will be on the decks to provide the ultimate soundtrack to whatever tricks you manage to pull out the bag. After working up an appetite with a few rounds, golfers can begin the difficult task of choosing from a variety of delicious street food menus and a bespoke drinks menu.
"I know I am getting better at golf because I am hitting fewer spectators" – Gerald R. Ford
Food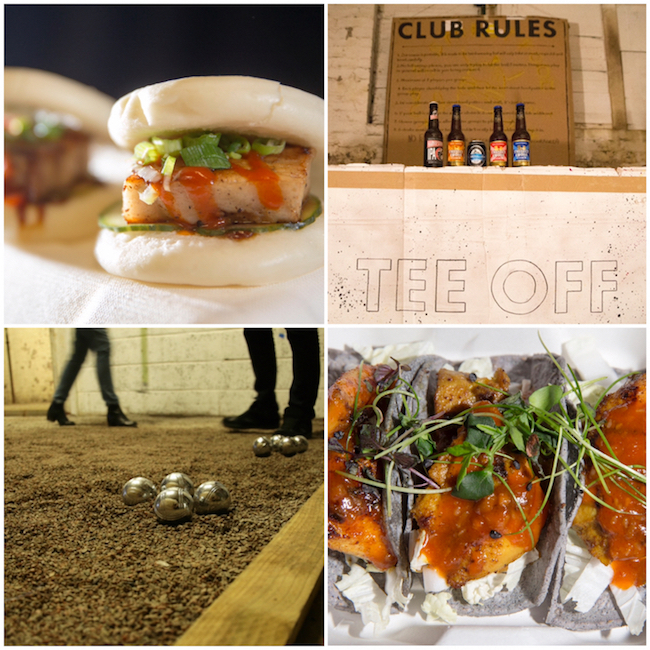 The street food on offer will range from classic American to Asian. Expect Pork Bao, Slow Cooked BBQ Brisket, Mac and Cheese and much more!
Drink
"If you drink, don't drive. Don't even putt" – Dean Martin
You say putter club, we say Rum Punch! As well as the rum, there's award-winning beers from Harviestoun Brewery and acclaimed ciders from Thistly Cross. Hole in one!
So, there you have it. See you on the (albeit mini) fairway – clubbing at its best!